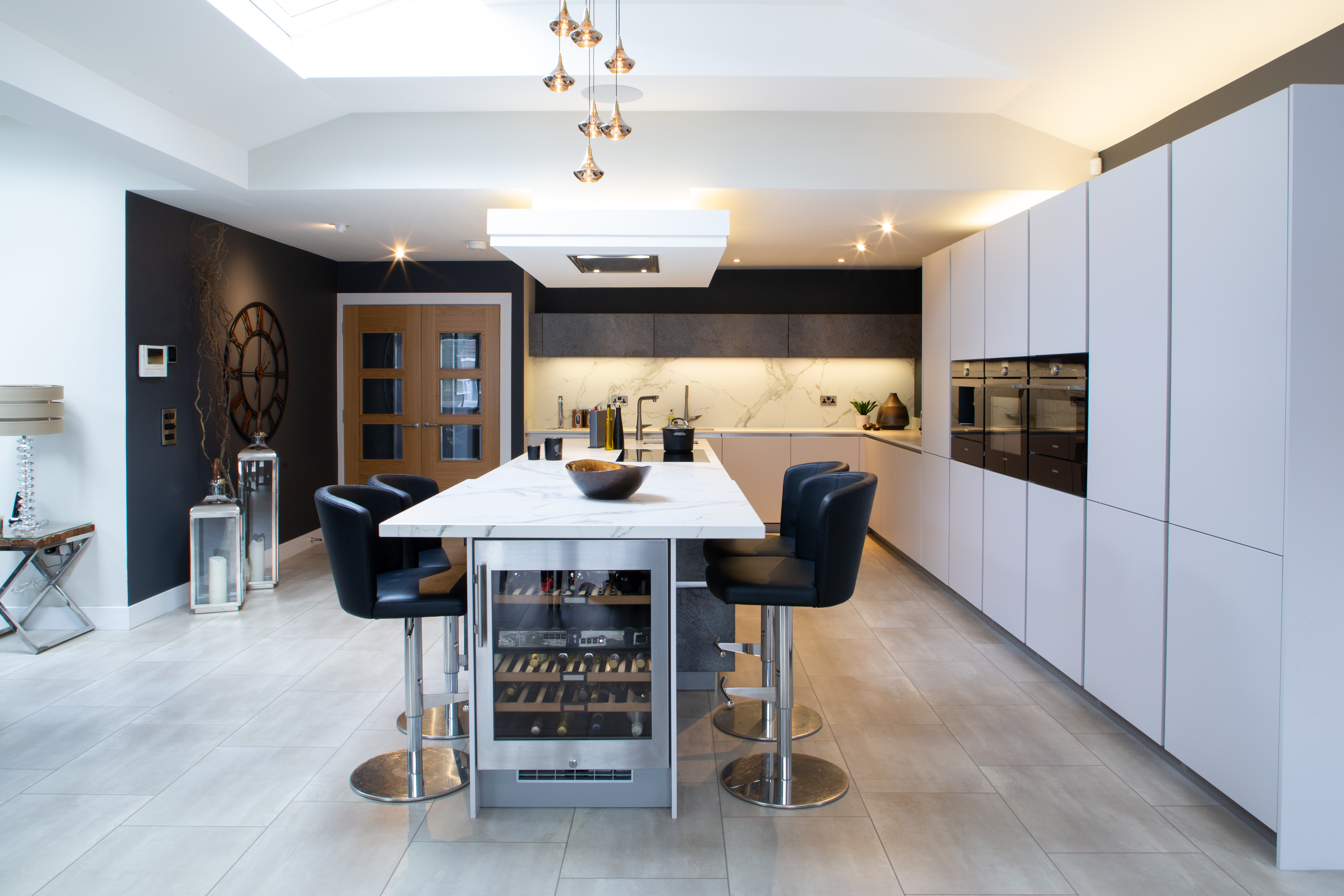 PRESS RELEASE
FOR IMMEDIATE RELEASE
'Mihaus' Unveil New Dalgety Bay Kitchen & Bathroom Showroom
New showroom set to bring Mihaus expertise to a wider customer base.
Leading kitchen and bathroom design experts 'Mihaus' have opened a new showroom in Dalgety Bay, following an uplift in enquiries from new clients in and around the Dalgety Bay and Dunfermline area.
Proud to have built the brand on foundations of unrivalled levels of customers service and attention to detail, 'Mihaus' have established a reputation as a high-end provider of kitchen and bathroom design and installation services. The new showroom will allow both individual and commercial clients to experience the bespoke designer solutions in person, including luxury brands and high-end industry leading appliances.
The new premises showcase a comprehensive range of selected leading kitchen brands, including industry leading names such as Siemens, Miele and Neff. Mihaus will also be providing the latest range of Miele appliances for 2019, known as 'Miele Generation 7000′. As the world's leading manufacturer of premium appliances, Miele's Generation 7000 range will be available for use in bespoke design solutions for customers' new kitchens.
Mihaus Dalgety Bay Manager, David Collins, commented: "We're thrilled to have opened our latest showroom in Fife. After realising that we were receiving a significant number of enquiries from the West Fife area, we decided to open our new premises to provide customers with the ability to come and see us in person and find out exactly how we can help make their dream kitchens and bathrooms a reality."
David continued: "We have always worked closely with our customers to build a perfect picture of what they're looking for in their new rooms. We have a dedicated and experienced team which include interior design architects and consultants who work with customers every step of the journey, right up until the installation is completed. This new showroom will allow more customers to be able to take advantage of our expertise by basing our services within easy reach.
Mihaus Dalgety Bay is open Monday – Friday 10am – 5pm, Saturday 10am – 4pm.
For more information, please visit the Mihaus official website at https://mihaus.co.uk
About Mihaus:
Mihaus have years of experience in the home improvement and new build sector, we know the requirements of builders and developers from realistic lead times to the quality of finish required in final installation. Mihaus designers work closely with clients and their budgets offering flexibility and choice, so the finished property looks sleek and finished to perfection.
Media Contact:
Contact: Morag Thomson
Email: morag@mihaus.co.uk
Telephone: 07980 922878
Web: https://mihaus.co.uk
– Release ends –