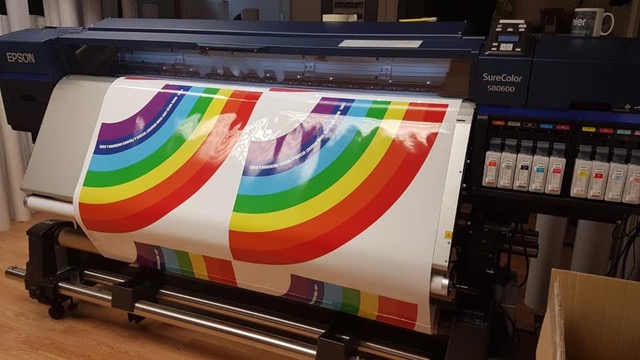 Glenrothes based businesses Dragnet Design and Premier Engraving & Signs have been raising funds for the NHS by selling Jumbo Rainbow Vinyl Window Stickers.
The Rainbow Relief window stickers, which are easily attached to house windows and doors and have proved popular in cheering up homes and streets in Glenrothes and beyond.
The original fundraising target was £300, however the total funds raised is currently sitting at £3,280.   Debbie Kemp from Dragnet Design commented "I couldn't watch another heart-breaking online video of nurses crying due to lack of PPE, tireless hours working to save lives, holding patients' hands while they died promising to tell their loved ones how much they love them! It must just be horrific for them. My partner and I wanted to decorate our window with a rainbow so thought a vinyl would be a good idea.  I've worked with Premier Engraving & Signs on numerous business projects and I approached Devan to see if it would be possible to raise funds during the Covid-19 epidemic. We thought designing large rainbow window stickers was a great idea and would also help to brighten up our local street windows.  From there it really just snowballed and before we knew it, we were inundated with orders.  It's been a real family effort delivering them with my partner and sister also helping out."
Devan Cunningham from Premier Engraving said "We've been overwhelmed by the response from our local community and it's great to see these on windows throughout Glenrothes. I have so much to thank the NHS and the Scottish Ambulance Service for, from a personal point of view the Scottish Ambulance service saved my Father twice, bringing him back from a Heart Attack. I truly am so thankful for that!
Due to requests for the large window stickers coming in from London, Wales, Dundee, Berwick Upon Tweed and even as far away as Australia, they dynamic duo are now selling A5 car window stickers via the Dragnet Design website    www.dragnetdesign.com which are selling for £7 including postage and packaging.